Interested in joining the VTI Team?
Visual Techniques, Inc. (VTI) has a current opportunity for an experienced Outside Sales Consultant. Our VTI Outside Sales Consultant will be responsible for sales in 2-4 geographical regions as mapped out by Regional Education Service Centers. The primary responsibility of this position is to maintain established relationships with existing customers as well as prospecting for new customers thus growing the business share and generating revenue in the territory. 
On a day to day basis, the VTI Outside Sales Consultant will call on school district decision makers both in person and virtually. These conversations are consultative in nature and seek to understand the needs of the school, as well as, opportunity seeking. The Outside Sales Consultant will offer ideas, pitch products, conduct demonstrations, and share experiences that relate to the needs of the end users.  In many cases, a walk through of job sites may be needed to gather details on materials for an installation job as well as equipment placement. Information gathered from the Outside Sales Consultant will be communicated to VTI's Sales Manager so that a quote and/or scope of work can be generated for products or services. The Outside Sales Consultant will present the quote to the end user, follow up as necessary, and work to close the deal. The Outside Sales Consultant will continue to be the primary contact throughout the sales and installation process. 
VTI's Outside Sales Consultants are expected to have timely follow up on leads that are provided by the manufacturers VTI represents, as well as, any leads that come directly to VTI. Additionally, this person must be comfortable presenting to large audiences and those of high ranking positions. 
The ideal candidate for this position will have exceptional communication skills and always keep customer service in the forefront. This person must be detail oriented and organized. Keeping accurate records and staying on top of tasks is vital.  The consultant must be proactive with a focus of growing the revenue in the territory.
All VTI's sales staff will attend regional and state trade shows, as well as, Lunch and Learn events promoting VTI products and services. Presence is also required at VTI sales meetings that are held 2-4 times per year.
Outside Sales Consultant Qualifications: 
Bachelor Degree or higher in related field (education or technology related preferred)

Strong organizational skills with the ability to prioritize and multitask

Strong communication skills in forms of written, verbal, and presentation

Basic to advanced knowledge of education technology products

Self-starter with the ability to take initiative to find solutions or answers needed to move forward 

Ability to adjust communication based on knowledge level of audience to yield a high level of understanding 

Successful experience in sales with a proven track record

Working knowledge of MS OneNote and Google Suite

Proven ability as a self starter to independently learn and use product hardware and software

Prior Audio Visual experience in design, installation, or project management

Prior experience in a K-12 educational setting

Travel required
VTI services the Texas Education market. Newly hired Outside Sales Consultants will cover the geographic territory of two to four various regions dependent upon their home office location and VTI need.  Please see maps below: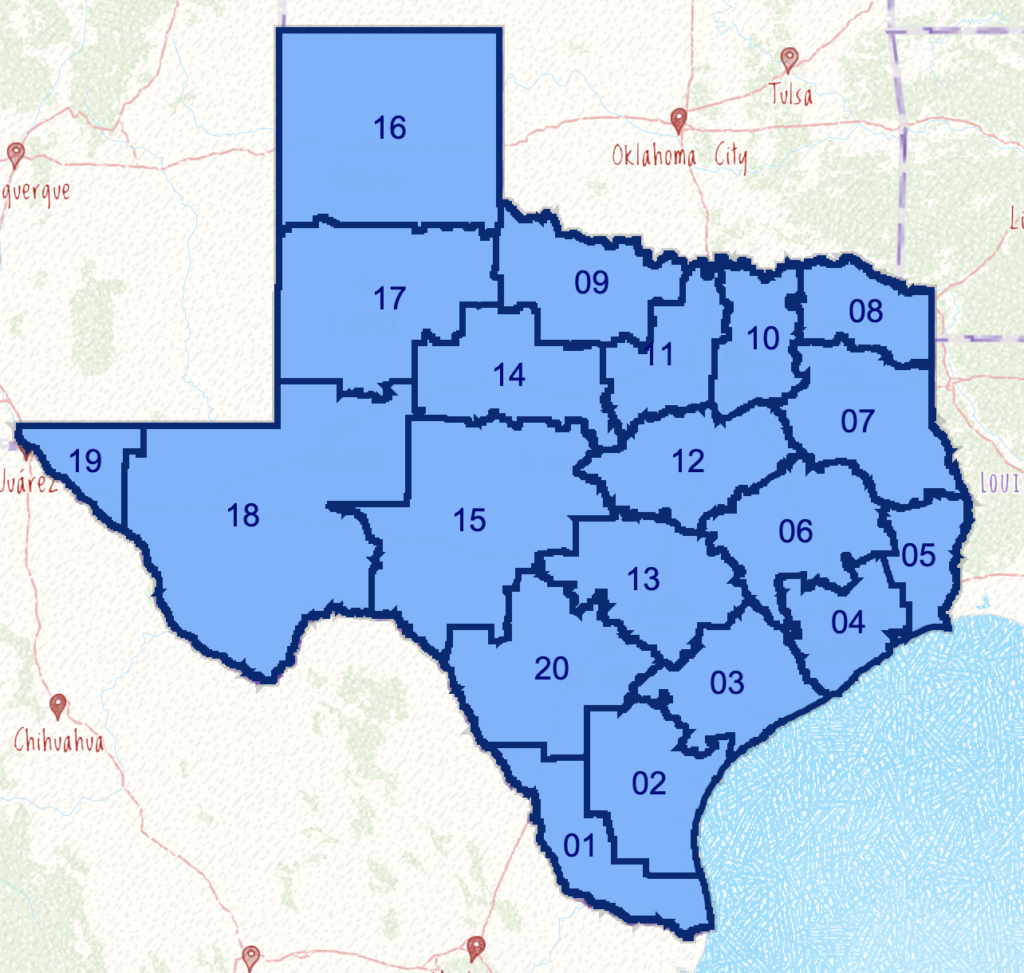 Visual Techniques: "Technology Changes, Our Values Do Not"
Our Values. Our Principals. Our Ethics. Our drive to provide our customers with the best service possible. Our passion for education and respect for educators. Our expertise and knowledge of school settings, lesson delivery, technology, and how it all works together. Since 1981, this is what has set VTI apart in the Technology and Audio Visual educational marketplace.
Whether schools are needing a replacement bulb for a projector or a fully automated and programmed control system, we understand the urgency and importance in all solutions we provide. VTI will be there every step of the way. From consulting on initial designs to training and service after installation, we want to be the knowledge base you rely on for making the best decisions for your educational setting.
Our team consists of former educators, instructional technologists, principals, educational leaders, technology experts, designers, technicians, and programmers who all work to support the current needs in education.
VTI offers a wide range of products including projectors, screens, sound systems, webcams, AV carts, laminators, laminating film, Interactive Flat Panels, vape sensors, temperature scanners, control systems, document cameras, and much more. Our consultations help in designing solutions that align with district goals and school needs. Ensuring those needs are met after the deployment is of utmost importance which is why we offer training for all products we provide.
Technology changes. It always will. But what doesn't change is our commitment to the values upon which VTI was built.
Industry
Information Technology and Services

Audio Visual 

Construction

Education
Employment Type
Job Function
To apply, email your resume and cover letter to marketing@vtitx.com